Published in: October 16, 2020 and updated in: November 4, 2021
O anestesiologista é o responsável por aplicar a anestesia, um composto medicinal que elimina a sensação de dor durante uma operação ou exame. Além de aplicar a anestesia, eles acompanham o paciente durante todo procedimento, sendo responsável por monitorar os sinais vitais e as reações do organismo¹,³. O dia 16 de outubro foi designado para celebrar o Dia Mundial deste profissional.
Nesta data, em 1846, foi usado pela primeira vez um aparelho inalador de éter para realizar uma cirurgia de maior porte, provocando uma anestesia geral no paciente. O aparelho foi idealizado pelo dentista Thomas Green Morton, dos Estados Unidos, que já vinha utilizando o éter em seus procedimentos de extração dentária². A primeira anestesia geral com este produto foi realizada no Brasil em 1847, no Hospital Militar do Rio de Janeiro¹.

Existem dois tipos de anestesia: a geral, que tem efeito em todo o corpo, deixando o paciente sem qualquer sensibilidade e inconsciente e a parcial (como a raqueanestesia e a peridural), em que apenas uma parte do corpo é anestesiada. Neste último caso, o paciente pode ou não ficar consciente. A duração de cada uma delas depende do tempo em que o procedimento será realizado³.

O anstesiologista é um médico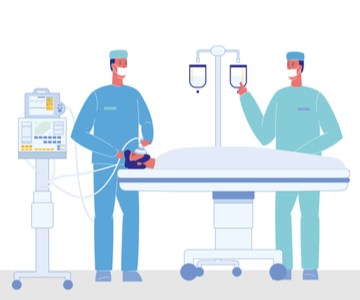 O anestesista é o profissional que tem a responsabilidade de entender a fisiologia e a farmacologia envolvidas no procedimento feito com o paciente4. Em uma cirurgia, ele será um dos primeiros profissionais que terá contato com o paciente, ainda no quarto, explicando sobre a anestesia, possíveis reações adversas. Já na mesa de operação, é ele quem deixa a pessoa preparada para o procedimento, monitorando seu estado ao longo de todo o processo - isso inclui pressão arterial, pulso, ritmo cardíaco, respiração, temperatura corporal. Mesmo após a cirurgia, ele é o responsável pela recuperação pós-anestésica e direcionamento do paciente para a UTI.

Ele é um profissional formado em Medicina, que após os seis anos de curso, se especializa em anestesiologia por mais três4 - algo que muita gente não sabe. Os riscos da anestesia, atualmente, são bem raros, por conta das técnicas modernas. O profissional anestesiologista reduzirá ao máximo os perigos de acidentes ou complicações³.



Fontes: 1. Dia do Anestesiologista. Jornal do Médico. Último acesso em 26 de julho de 2021. 2. Thomas Green Morton, o inventor da anestesia. Scielo - Jornal Brasileiro de Patologia e Medicina Laboratorial. 3. Anestesia tem risco? Biblioteca Virtual em Saúde - Ministério da Saúde Brasil. Último acesso em 26 de julho de 2021. 4. O que faz um anestesiologista? CMIA Anestesiologista. Último acesso em 26 de julho de 2021.
This material is for informational purposes only. It should not be used to perform self-diagnosis or self-medication. When in doubt, always consult your doctor.